Gigantoonz
Go on a wild ride with Gigantoonz, an 8-reel slot powered by Play'n GO software and offering a bunch of paylines. This thrilling adventure is as playful and exciting as its two predecessors - only this time you'll encounter even bigger but cuter monsters! Be sure to join them as they run your money in style!
Gigantoonz Slot Review
Gigantoonz combines elements from the previous two parts with a few obvious changes. The playing area has been expanded to an 8×8 grid, but this doesn't guarantee more wins - you still need at least six matching symbols to form a winning combination. The electronic background of the second part remains, but it is much more structured and organised than before. Players will find a tracking meter on the left and a Quantumeter on the right - that's Gigantoonz ready to go!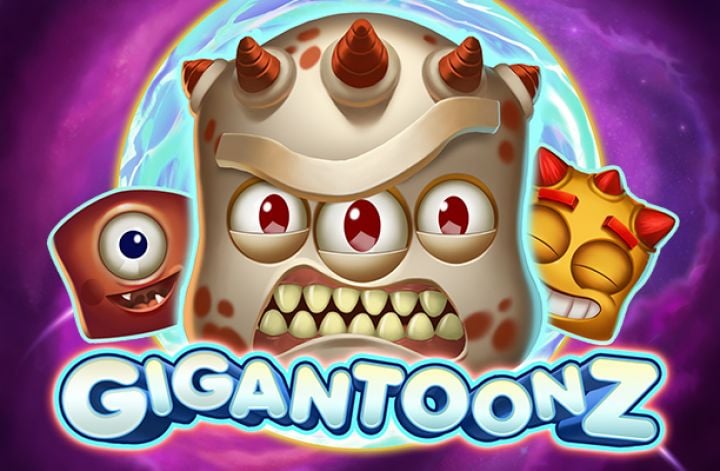 Reactoonz was known for its volatility, and Gigantoonz follows suit - it has the same gameplay and a highly volatile maths model (rated 10/10). The Return to Player (RTP) has dropped slightly since then to 96.25%, but could go even lower depending on the setting. Players can bet from 20 cents to €100 per paid drop; symbols include cute Toonz creatures, with five one-eyed low payouts ranging from 5x-20x for clusters larger than 30, and five two-eyed high payouts that award 50x-1,250x when forming a cluster of 30 or more. Winning clusters are removed from the board to allow new symbols to take their place.
Gigantoonz features
Gigantoonz RTP
The return percentage for Gigantoonz (RTP) is 96.25 %. However, it can drop even lower depending on the game settings. This high volatility slot means there is a higher risk of losing, but also the possibility of bigger wins, making this game an exciting choice for more adventurous players looking for an adrenaline rush.
Gigantoonz maximum profit
Gigantoonz is a highly volatile slot game and the rewards are accordingly - the maximum win can be up to 4 000 times your stake. This means that if you bet €100 per spin, you could win a whopping €40,000 in one go! Keep in mind that while the potential prizes are big, luck plays a very important role when it comes to big wins.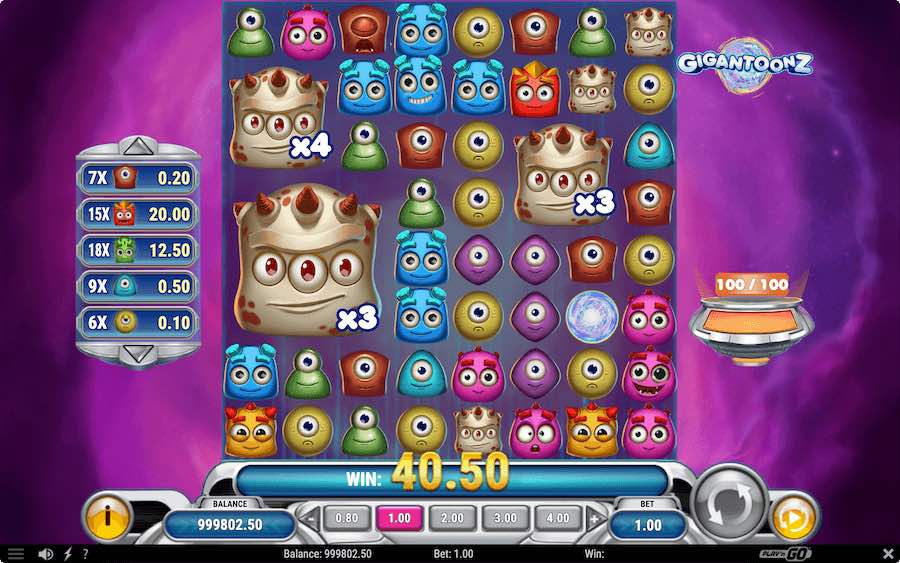 Cascade property
Instead of symbols spinning on the reels, in Gigantoonz, symbols fall from the top and disappear when they land on winning combinations. This opens up a range of potential wins and bonuses that wouldn't be available in regular slots, as well as adding to the visual appeal.
Megasymbols
Mega symbols can range in size from 2×2 all the way up to an incredible 7×7! Each mega symbol counts as one symbol and its cluster value is determined by a randomly generated number up to 13. When these winning mega symbols are removed from the grid, they leave behind Wilds to fill any empty spaces below them - if for some reason there is no space, 1×1 versions of the same symbol are used instead.
Quantum Wilds
On random, non-winning spins, you'll be lucky to get up to 10 Quantum Wild randomly distributed across the grid. These useful wilds not only help to create winning clusters by substituting for any winning symbol on the reels, but they also come at no cost to you!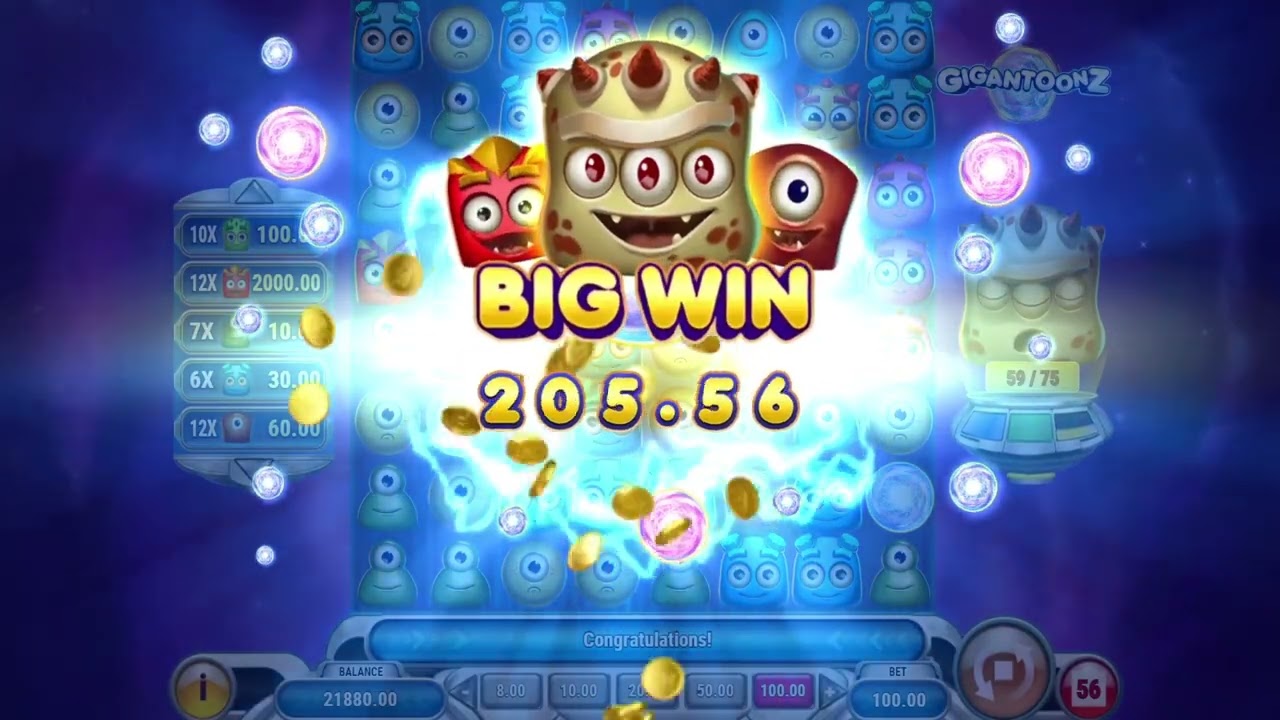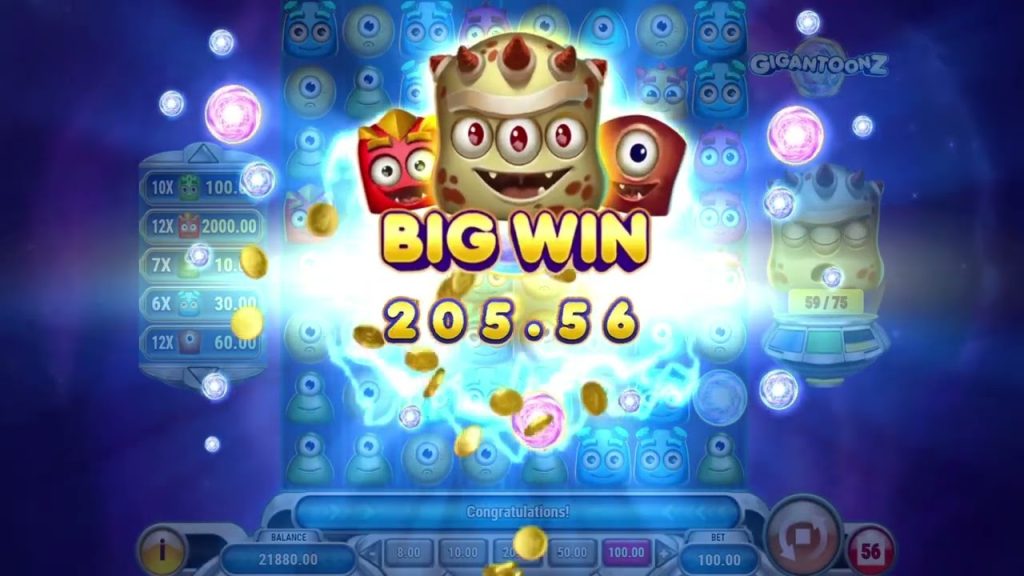 Quantumeter
Quantumeter collects 1 charge for every winning symbol and even more when a Mega symbol appears in your play area, and has the ability to store up to 100 charges. When you reach its four benchmark levels of 25, 50, 75 or 90+ charges, it activates one of the four modifiers:
Decomposition - which removes all occurrences of the 4 randomly selected symbols;
Metamorphosis - this modifier randomly changes any symbol into any other symbol (including megas);
Radiation - add 1-4 mega symbols and 2-5 randomly placed quantum wells;
Wild Surge - collect ninety + charges for transformative power!
Gargantoon
Once 100 charges have been accumulated, the Gargantoonz converter will take effect in two steps. In the first phase, all mega symbols are converted to mega Gargantoonz - no matter how many there were. A minimum of three will appear on the screen, with 2-4 1×1 Gargantoonzs added - and they won't disappear if you're lucky! During the second phase, these same Gargatoonz will break down further into smaller ones, which will then disappear with wins as usual.
Gigantoonz demo
If you want to get to know the Gigantoonz free slot in more detail, why not try the demo version? It's a great way to test out the features and bonuses before making a real money bet. All you need to do is log in to your casino account and click on the 'Play for fun' button and the demo game will open. You can then explore the features of this slot in a risk-free environment. Once you feel comfortable with the gameplay and understand how it works, you can move on to playing Gigantoonz for real money.
Reactoonz vs Gigantoonz
Reactoonz and Gigantoonz are two similar but different games. Reactoonz is a 7-reel game with groups of symbols that need at least five to win, while Gigantoonz is an 8-reel game with larger symbols that need at least four in a combined group to complete a winning round. In both games, players can create mega symbols by combining larger symbols into one big symbol. The main difference between the two games is that in Reactoonz, a 5×5 giant symbol pays the highest value for combinations, while in Gigantoonz, each 4×4 symbol has its own payout value.
Gigantoonz Casinos
Finding an online casino that offers Gigantoonz and accepts players from your country should be easy. However, it is important to make sure that the payment methods, withdrawal limits, bonuses and promotions are suitable for you before signing up to the casino. LeoVegas Casino has proven to have excellent customer service reviews while offering one of the best gaming experiences available; it could be just what you are looking for! But if not, don't worry - head over to Gigantoonz's top-rated list of casinos to find something to suit you.
Judgment
Gigantoonz is a fun and exciting game with plenty of bonus features to keep you entertained. The quantum meter, Gargantoon and other transformers add depth to the game and can lead to big wins. With a high 96 % to RTP-%, Gigantoonz has the potential to be very rewarding; especially when combined with a generous welcome bonus. If you're looking for an online slot game with lots of chances to win, Gigantoonz is definitely worth a try!
FAQ
Can I play the Gigantoonz slot for free?

Yes, you can play the Gigantoonz slot for free at online casinos. Most online casinos offer a demo version of the game, so you can test all its features and bonuses without risking your own money.

How do I win at Gigantoonz?

Players must match four or more of the same symbol vertically or horizontally to form a winning combination in Gigantoonz. There are also special symbols such as wilds, multipliers and bonus items that increase your chances of winning big!

Can I win real money on Gigantoonz?

Yes, you can win real money in the Gigantoonz slot. To do this, you need to play for real money and make a deposit at the online casino offering the game. Make sure you check their payment methods, withdrawal limits and bonuses before signing up.